Events
---
Thursdays in Wascana
August 16, 2018 - 5:00 pm – 9:00 pm
Legislative Landing, Queen Elizabeth II Gardens, Bandstand, MacKenzie Art Gallery and Saskatchewan Science Centre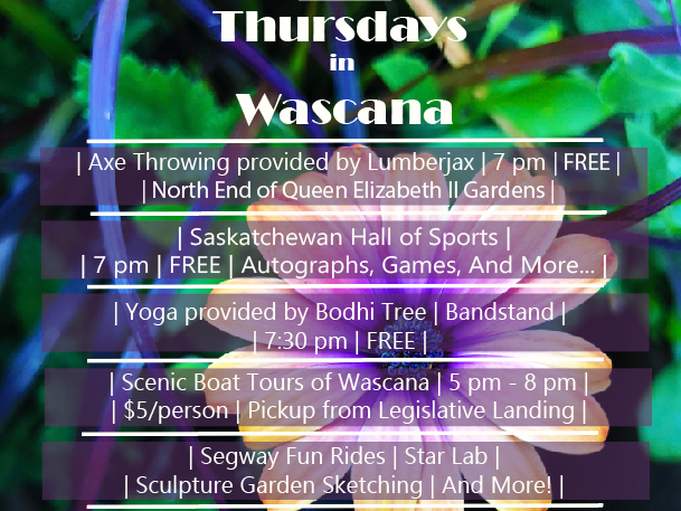 Every Thursday during the summer, look for events in Wascana Centre. We have a great line up so far, including: yoga, escape manor cages, tai chi, sk sports hall of fame pop-up, local barre, Segway tours, paddle events, boat tours and many many more!

This Thursday there will be:

Axe Throwing provided by Lumberjax
It's kinda like darts... but not! Axe throwing is one of the fastest indoor growing indoor recreational sports today! We offer complete axe throwing technique and safety lessons prior to each session and then you head into competition matches against your friends with lots of socializing and friendly competition! Partake in this free event, starting at 7pm at the north end of the Queen Elizabeth II Gardens!

Saskatchewan Sports Hall of Fame
At 7 pm at the north end of the Queen Elizabeth II Gardens join some Saskatchewan Sports Hall of Fame in some free activities!

Yoga provided by Bodhi Tree
Take in some free yoga while enjoying the nature of Wascana. This event starts at 7:30 at the bandstand.

CC RezQs Adoption Party
Cuddle some puppies, and talk to staff about fostering and adoption!

Scenic Boat Tours of Wascana
Enjoy a beautiful scenic tour of Wascana from the water for $5/person, from 5:00 p.m. - 7:30 p.m. Pickup is from Legislative Landing every 1/2 hour. These tours will run every Thursday evening this summer.

Segway Rides
From 5:30 p.m. to 8:30 p.m. try out the Segway/Ninbots around a mini-circuit course for a special rate of $10 for 10 minutes. Safety equipment and lesson provided. No balance, coordination, or experience necessary.
Meet at the corner of Legislative Drive and Ave A.
* For anyone ages 12 years and older.
**12-17 year olds, who are not accompanied by an adult, must bring a signed Liability Waiver with them, which can be printed off at www.rrrtours.caunder the "Book a Tour" page.

Sculpture Garden Sketching
Go to the MacKenzie Art Gallery to join in some sculpture sketching for free! Class goes from 7 pm to 9 pm.

Star Lab provided by the Saskatchewan Science Centre
The Persied Meteor Shower may have already peaked, but the science hasn't. Keep you astronomy filled evenings going at the Saskatchewan Science Centre in our inflatable Star Lab starting at 6 pm.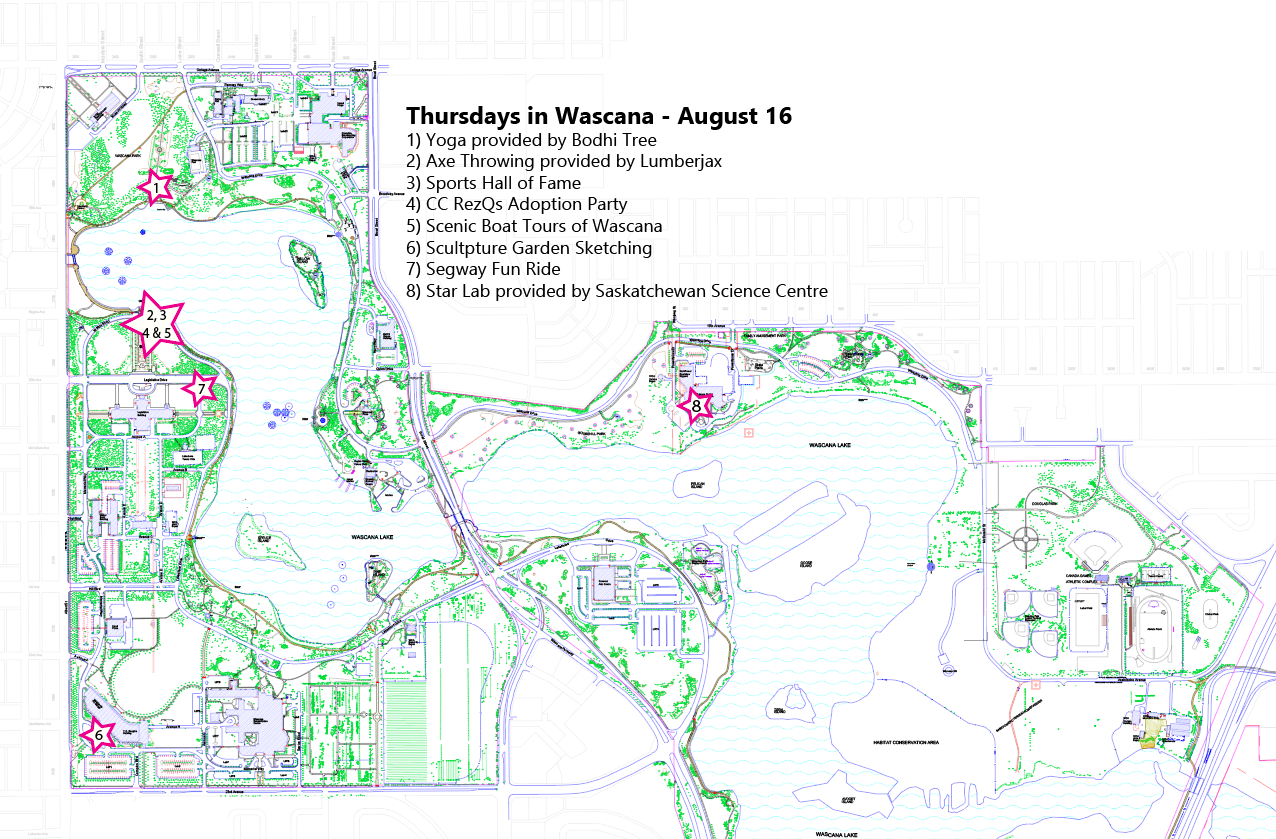 View All Events