Hike through the Habitat Conservation Area (April-October)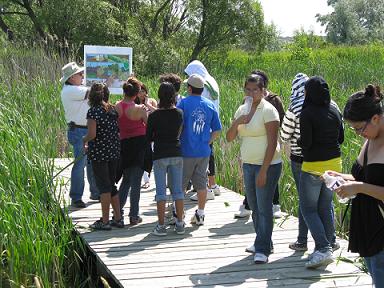 Time: 60-90 minutes Suggested age: Grade 2 and up
Meet our Park Naturalist at the Habitat Conservation Area to experience nature right in the middle of our city! We will hike around the Habitat Conservation Area (HCA) and observe plants and wildlife that call Wascana Centre home. During the summer, we will likely see turtles, many species of birds, lots of native plants and perhaps a fox or even a snake! This tour offers students a chance to learn how to observe wildlife, identify plants and animals, and learn about the marsh ecosystem. Binoculars are provided.
Pond Dipping (May-September)
Time: additional 30-60 minutes Suggested age: Grade 2 and up
Students can search for life below the water. We will use containers to scoop bugs and other underwater life from the water and identify them. Pond dipping equipment will be provided and identification sheets will be on hand. This program is very popular with children!
Visit the Display Ponds (May-September)
Time: 30-60 minutes Suggested age: Kindergarten to Grade 2
Meet our captive and injured waterfowl on this leisure walk around the Waterfowl Park Display Ponds. This tour offers students a chance to see waterfowl up close and discuss such topics as camouflage, incubation, eggs, baby birds and much more! Please note that as of 2011 this a self-guided tour. Wascana