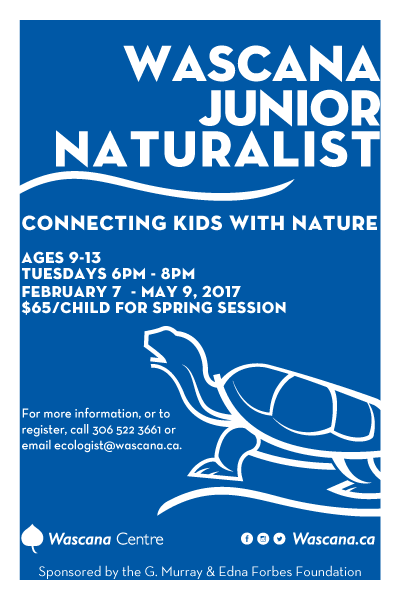 The Wascana Junior Naturalist program was established here at Wascana Centre in the fall of 2009. In a day when youth are becoming increasingly disconnected from the natural environment around them, this program aims to provide them with an opportunity to connect with nature. Our focus is to bring like-minded children together to learn of the simple joys nature can give them and offer them a chance to discover nature right in Wascana Centre. We hope this program will help youth to realize that there is more than one species of birds in their backyard or that they can see a beaver right here in the middle of their city, or that sitting and studying a wild licorice seed head (natures original velcro) can be fascinating and rewarding!
Wascana Junior Naturalist - Spring 2017
The Spring session of the Wascana Junior Naturalist Program is open to children ages 9-13 and runs:
Tuesday evenings from 6 – 8pm
February 7, 28
March 7, 21
April 4, 25
May 9
The cost to register is $65/child.
For more information and to register call: 306-522-3661 or email: ecologist@wascana.ca
There are only 20 spaces available for this session, so register soon!
Some of the topics covered in the Spring session will include:
Archaeology – Channel your inner Indiana Jones exploring your own dig site
Astronomy – Spy on stars, constellations and planets as you learn all about space!
Compass reading and GPS units – with this outdoor survival skill you will be able to find your way when lost
Insect surveying – set up nets, take water samples and hand collect insects in the Habitat Conservation Area
Seed Dispersal through seed bombs - Seed bomb the Habitat Conservation Area to spread some native prairie grasses and wildflowers
Yellow Fish Road – paint fish on storm drains to draw attention to the importance of keeping pollutants out of our drains and water systems
Marsh Creatures – explore the marsh and learn all about its inhabitants – salamanders, frogs, turtles, aquatic invertebrates, birds, beavers, etc!
What is a Naturalist?
The dictionary says "a person who studies or is an expert in natural history, esp. a zoologist or botanist." However, here at Wascana Centre we view a naturalist as anyone who is interested in the natural environment and can appreciate the joys nature has to offer. A naturalist is someone who respects the environment and realizes that a healthy ecosystem is a good thing for wildlife as well as a good thing for humans.
Here are a few examples of what Junior Naturalists have done over the last few years: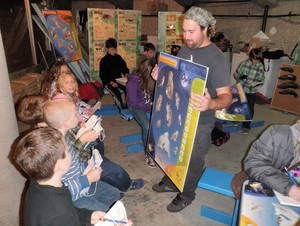 Learned about the exciting lives of bats!
Visited a Northern Saw-whet Owl banding station!
Explored the Habitat Conservation Area for birds, mammals, frogs and turtles!
Visited the Saskatchewan Science Centre!
Discovered the many species of birds that visit Wascana Centre in a year and learned how to identify them!
Built their own bird house to put up in their yard!
Discovered the challenges of migration by playing the Great Migration Challenge!
Planted seeds and watch them grow into native grass!
Helped plant shrubs and grass in the Habitat Conservation Area for wildlife!