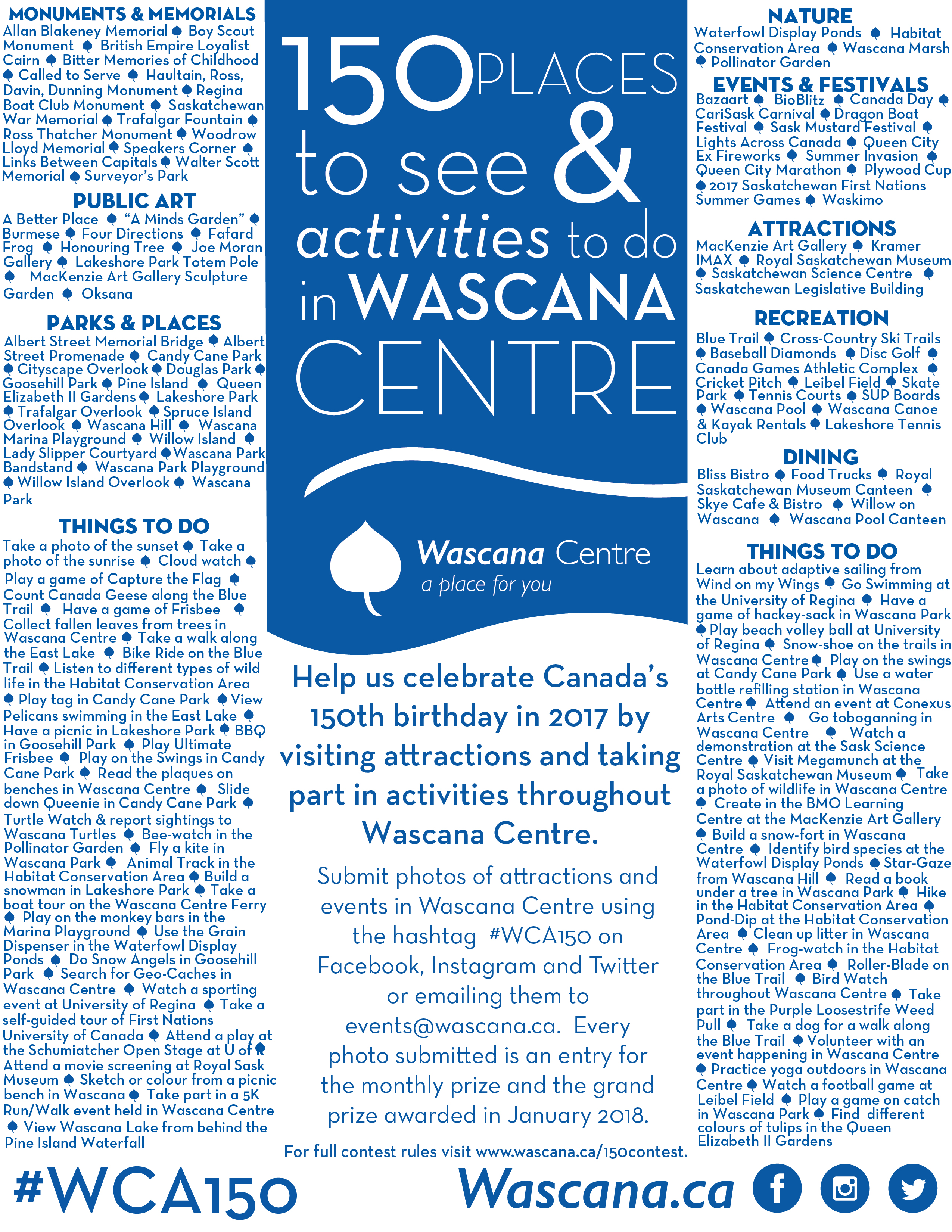 Our Monthly Winners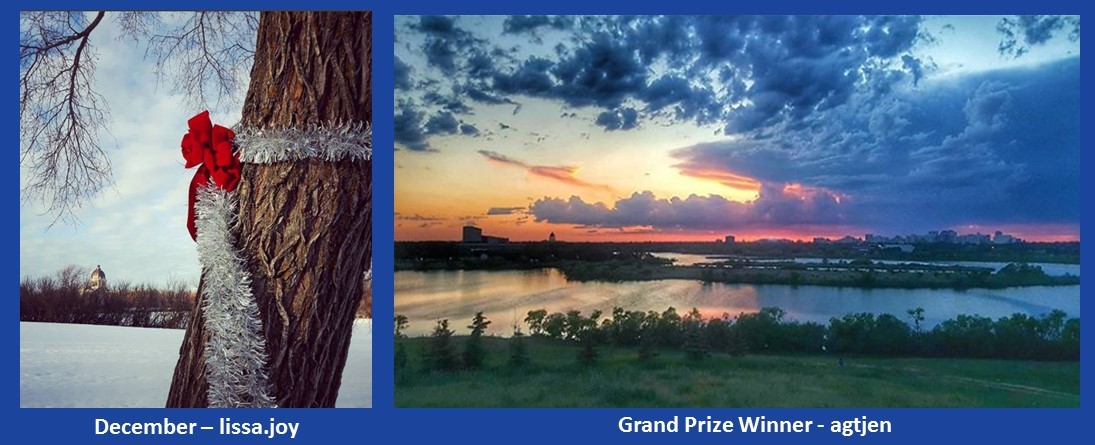 Wascana Centre celebrated Canada 150 with a contest! We compiled a list of 150 Places to See and Things to Do in Wascana Centre. We asked you to take a photo of the attractions, events and monuments within Wascana Centre or take a photo of you or a friend completing an activity to be entered for a chance to win! You submitted your photos using the hashtag #wca150 on Facebook, Instagram or Twitter or email the photo to events@wascana.ca. There was one winner chosen each month, with a Grand Prize being awarded at the beginning of 2018.
Please click HERE to download the activity checklist. Activity checklists are also available at Wascana Place.
THANK YOU to all of you who submitted photos throughout the year. The pictures were great and we appreciate your participation.
We would not have been able to hold the contest without our partners helping us out with prizes.Grand PRIZE
The Grand Prize package is from a few of our partners: The Willow on Wascana, Kramer IMAX, Saskatchewan Science Centre, The Owl, Wascana Centre
The December Prize Package sponsor was University of Regina Press
The November Prize Package sponsor was Wascana Centre
The October Prize Package sponsor was the University of Regina's Centre for Continuing Learning
The September Prize Package sponsor was the Conexus Art Centre
The August Prize Package sponsor was the Willow on Wascana
The July Prize Package sponsor was the Regina Rolling Robot Tours
The June Prize Package sponsor was the MacKenzie Art Gallery
The May Prize Package sponsor was Wascana Centre
The April Prize Package sponsor was the Royal Saskatchewan Museum
The March Prize Package sponsor was the Saskatchewan Science Centre & Kramer IMAX
The February Prize Package sponsor was the Wascana Centre
Wascana Centre Authority Canada 150 Contest Rules
Submissions accepted from 02/15/2017 at 8:00 a.m. CST to 12/31/2017 at 11:59 p.m. CST.

ENTRY PROCEDURE
To enter the Wascana Centre Authority Canada 150 Contest , you must submit your photos by posting on Twitter, Instagram or Facebook using the hashtag #WCA150. Posts must be made public to be counted as an entry. You may also submit them via email to events@wascana.ca.
To be valid, all entries must include a photo of an event, attraction or activity on the Wascana Centre Canada 150 list. While photos may be submitted multiple times using Twitter, Instagram, Facebook or email, there is only one entry per unique photo.
No purchase required.

ELIGIBILITY
This contest is open to all Canadian residents. Employees of Wascana Centre Authority and their immediate family or persons living under the same roof are not eligible to enter this contest.
By submitting your photos, you agree to grant to Wascana Centre Authority, free of charge, nonexclusive permission to use your photo in connection with Wascana Centre Authority for print, web, video and promotional purposes.
Copyright of the photo will remain yours and you may continue to use the photo any way you wish.

If you do not want to grant Wascana Cenre Authority these permissions, please do not submit your photo.
In order for Wascana Centre Authority to use your photo, you confirm that (a) your photo is your own original work; (b) you own all the rights in the photo, including copyright; (c) you have the right to give Wascana Centre Authority the permission to use your photo for the purposes specified in these rules; (d) the photo is not defamatory and does not infringe any Canadian laws or violate the rights of any third party; (e) you have the consent of anyone who is identifiable in your photo or the consent of their parent / guardian if they are minors; (f) you waive any moral rights that you may have in the photo; (g) you indemnify Wascana Centre Authority against any claim, demand, action, suit, or other proceedings against Wascana Centre Authority arising out of the use of the photo or any false or inaccurate statements.


PRIZES
On the first business day of each month, a winner will be randomly drawn from a group of all entries received during the previous month.
On January 2, 2018 a winner will be drawn from all entries submitted throughout the entire contest run for a grand prize.
The selected winner will be posted on www.wascana.ca/150contest and contacted via their entry method during the week of the draw. The winner should acknowledge their prize by no later than (3) days following Wascana Centre Authority's attempting to contacting them. If the prize is not claimed within this period, a new winner will be selected.
The prize will be made available for pick up at Wascana Place by the winner or mailed to the winner's address if they reside outside of Regina, Saskatchewan.

DESCRIPTION OF PRIZE
The prize, including the value, will be indicated on www.wascana.ca/150contest and updated monthly. The prize shall be accepted as is. No substitutions will be allowed.
If the prize cannot be awarded as described, Wascana Centre Authority reserve the right to substitute a prize or prize component with another of comparable value.

GENERAL RULES
If you are selected as a winner, you shall first correctly answer a mathematical skill-testing question before being declared a winner.
If you are selected as a winner, you, or your parents or guardians if you are a minor, agree to have your name and/or picture, including your photograph, used for promotional purposes related to this contest, free of charge. By accepting the prize you confirm your eligibility of these rules and release Wascana Centre Authority from all liability for any damage or loss arising from participation in this contest or from the awarding, acceptance or use of the prize.
Should you make any false statement, you shall be automatically disqualified from the contest.
All personal information, such as your name, address, telephone number, e-mail address and age is collected solely for the purposes of administering this contest and shall not be used for any other purpose without your consent. By providing this information, you consent to it being used for the stated purposes.
By entering, contestants agree to abide by the contest rules which shall be applied by Wascana Centre Authority.