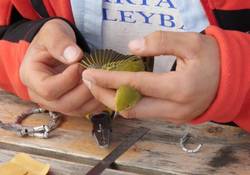 In the summer of 2010 Wascana Centre began participating in the Monitoring Avian Productivity and Survivorship program (MAPS). The Wascana station is located in the Habitat Conservation Area within Wascana Marsh. This program was established by the Institute of Bird Populations in 1989. MAPS stations gather valuable data from over 500 participating sites throughout Canada and the continental United States. However, Wascana's station is only the third active station in Saskatchewan, with the other two stations in Craven and Beaver Creek (near Saskatoon).
Our third season of MAPS banding is now complete.
Since beginning the MAPS program in the Habitat Conservation Area in 2010, 1332 individuals of 41 different species have been banded and captured as part of the banding program (2010-2012). Wascana Centre would like to thank all the volunteers who help make the MAPS program a success!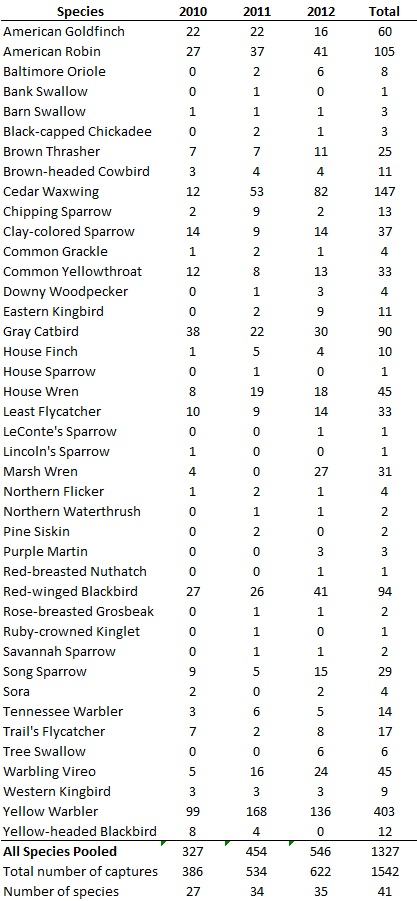 Click here to see banding results from 2010! Click here to see banding results from 2011! Click here to see banding results from 2012!
View photos from Wascana's MAPS program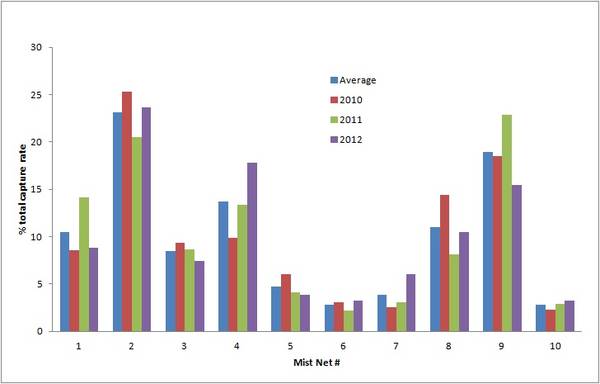 View a virtual tour of the Wascana MAPS nets.
What is MAPS?
The MAPS program focuses on capturing songbirds on their breeding grounds and monitoring the fluctuation of birds captured over a number of years. Using this banding data of the number of adults and young birds captured and recaptured in subsequent years, it is possible to determine how Wascana Centre's bird populations are doing in comparison to other areas of similar habitat. The Institute of Bird Populations uses MAPS data to examine if and why bird populations are changing. Currently the institute is coupling MAPS results with Breeding Bird Survey results and, interestingly, the results from both studies show the same population trends for many different species. The difference is MAPS results can give researchers an idea as to why the species is either increasing or decreasing (i.e. low juvenile return rate, low adult survival, high productivity, etc.). With every 2 out of 3 species of bird in decline, this is a very powerful tool when dealing with species at risk and determining conservation initiatives to help protect species in peril.
What is a MAPS station?
A MAPS station is a specific location where birds are captured each year during the summer (the focus is breeding birds, not migrating birds). Typically ten mist nets (large fine nets used to capture songbirds) are placed in exactly the same spots each year. During the summer, the nets are set up once every 10 days, for 6 sessions between June and August. Each session starts at sunrise and ends 6 hours later. Birds are captured in the nets, banded and quickly released. Data including sex, age, weight, and molt are collected during this time.
Why MAPS in Wascana?
Wascana Centre is unique in its location within a major urban centre while still sustaining a healthy number of bird species that nest in the marsh habitat. Bird species we expect to capture in large numbers include Red-winged and Yellow-headed Blackbirds, Common Yellowthroat, Yellow Warbler, Marsh Wren, Least Flycatcher, Gray Catbird, American Goldfinch and Clay-colored Sparrow. Less common species we hope to capture include House Wren, Brown Thrasher, Cedar Waxwing and Bobolink. This wide variety of bird species gives us a great opportunity to learn something about these birds, while contributing valuable data to help understand their population trends.
---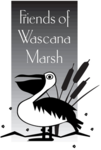 Wascana Centre is proud to have Friends of Wascana Marsh as the official sponsor of Wascana's MAPS program. The establishment of this station was possible thanks to the Friends!