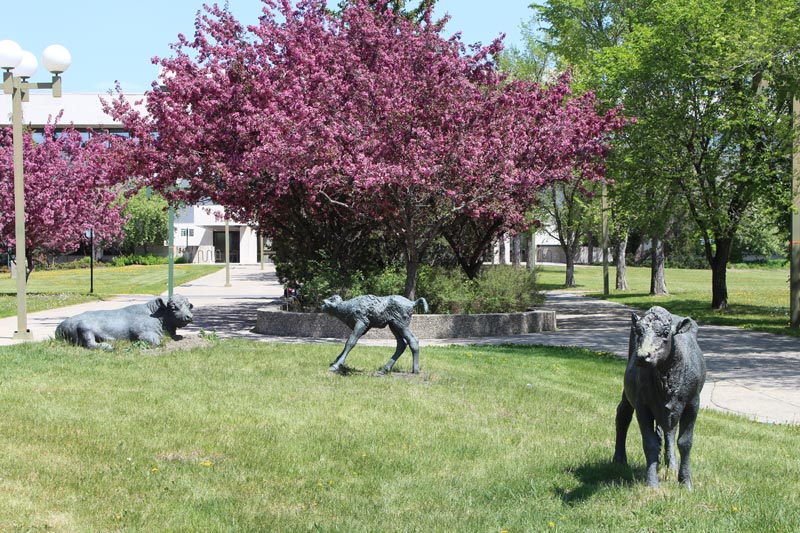 Three of Joe Fafard's sculptures (Potter, Valadon and Teevo) from the MacKenzie Art Gallery collection, are part of an outdoor installation on the corner of Albert St. and 23rd Ave. A pastoral setting is created by placing a cow, a bull and calf upon a landscaped urban meadow. Viewers are reminded of a quieter more serene place free of the hustle and noise of urban life.
"As a young child naturally I was discovering the world and the world was our farm, and it was the animals, and it was the people of the community, and it was the work and also the play." - Joe Fafard.
The cow (Valadon) and bull (Potter) are named after historical painters who Fafard admires, Suzanne Valadon and Paulus Potter. Paulus Potter was a seventeenth century Dutch artist who painted rural life and animals and was influential in developing the style of imagery that Fafard uses in his work. Suzanne Valadon was a woman artist in Paris during the impressionist years, and was best known for her strong and vital depictions of the female nude. These two sculptures were a gift from Clair Kramer and made in 1990.
Teevo was made from bronze in 1993 as part of a collaboration. The calf's name was the suggestion of a student, through a competition. The suggestion (Teevo) was based on the French language words "petite veau". Translated the words mean "small cow".